Special Educational Needs (SEN)
At Higher Openshaw Community School, we believe that all children are unique and endorse the principle that they are entitled to the teaching and support which will maximise their abilities and sense of personal worth and their contribution to the school and the wider community. With regard to this, our aim is to detect those areas where individual children have special educational needs and to provide for them appropriately.
At Higher Openshaw Community School, we welcome children with special educational needs, and are committed to their inclusion in all aspects of school life.
Children may have special educational needs either throughout, or at any time during, their school career. This policy ensures that curriculum planning and assessment for children with special educational needs takes account of the type and extent of the needs of the child.
SPECIAL EDUCATION NEEDS CO-ORDINATOR: Mrs G Dewsbury
Contact email: G.dewsbury@higher-openshaw.manchester.sch.uk

SPECIAL EDUCATION NEEDS GOVERNOR: Helene Helsby
Mission Statement
Higher Openshaw Community School seeks to develop the full potential of each child, recognising the uniqueness of each individual. We promote high standards of education for children with Special Educational Needs and encourage their full participation in school and community decisions with regard to their education.
At Higher Openshaw Community School, we will have regard to the SEN Code of Practice and consider the three principles for inclusion at all levels of curriculum planning.
Pupils with SEN are entitled to have suitable learning challenges set for them. This is achieved through the delivery of a broad and balanced curriculum. The assessment and monitoring of the children's needs feed planning.
We will ensure that action is taken to respond to pupils diverse learning needs through the class teacher and Special Educational Needs Co-ordinator (SENCo) monitoring and reviewing through the management of SEN provision.
We will help to overcome potential barriers to learning and assessment for individual and groups of children by differentiated quality first teaching, using a variety of teaching and learning activities.
Legal definition of Special Educational Needs (SEN) (SEN Code of Practice: 2001)
Children have special educational needs if they have a learning difficulty that calls for special educational provision to be made for them.
Children have a learning difficulty if they:

Have a significantly greater difficulty in learning that the majority of children of the same age.
Have a disability that prevents or hinders them from making use of educational facilities of a kind generally provided for children of the same age in schools within the area of the local education authority.
Are under compulsory school age and fall within the definitions above or would so do if special educational provision was not made for them.
Children must not be regarded as having a learning difficulty solely because the language or form of language of their home is different from the language in which they will be taught.
For children of two or over, educational provision is that, which is additional to, or otherwise different from, the educational provision made generally for children of their age in schools maintained by the LEA, other than special schools, in the area.
Our Aims and Objectives
Promoting an inclusive education and providing equality of opportunity.
Pupils with SEN are given full and equal access to a broad and balanced curriculum and achieve their full potential across the curriculum subjects.
A good quality of teaching and learning is provided by highly trained staff.
Our assessments of pupils with SEN identify need and inform decision making as soon as possible.
Pupils and parents/carers are informed and actively encouraged to be involved in meeting the needs of their children. This is in partnership with the school through regular attendance at reviews of their child's progress.
All pupils are actively involved in informed of their targets.
Achievement targets are set, monitored and reviewed on a regular basis.
Appropriate resources are centrally based for staff use in the classroom to ensure that the needs of pupils are appropriately met.
Use is made of teachers, neighbouring schools, outside agencies, facilities and resources wherever possible.
All children grow in their confidence and independence and self-reliance to become confident and capable learners.
To identify the roles and responsibilities of staff in providing for children's special educational needs.
To enable all children to have full access to all elements of the school curriculum unless otherwise stated within their statement of need
To view our SEND Information report and SEND policy please click the links below or go to the 'Documents and Polices' section of this website.
What is our Local offer?
Higher Openshaw Community School is a mainstream primary school and Nursery with an inclusive ethos. Our philosophy is to recognise and value individual difference, providing equal opportunities and appropriate challenge for all learners, in a nurturing environment, thereby enabling our children to reach their full
potential.

Mrs Deswbury is the School's Coordinator of Special Needs (SENCO) is a trained teacher, who is currently undertaking the NASENCO qualification (National Award for Special Educational Needs Coordination). She regularly attends training, including termly Manchester SENCO networking meetings and keeps up to date with
academic research around SEND.

Feedback is always appreciated, and Mrs Gewsbury would be happy to listen to your views about SEN support and help in any way possible. Please contact school on 0161 223 3549 or g.deswbury@higher-openshaw.manchester.sch.uk
If you would like to offer feedback or request a meeting please get in touch.
Please see our enclosed information on this page of our Local offer at Higher Openshaw Community School and service for parents.
27/02/2023 - Our Nurture Lego group had the oportunity to visit legoland. What a great day and experience for our little lego builders.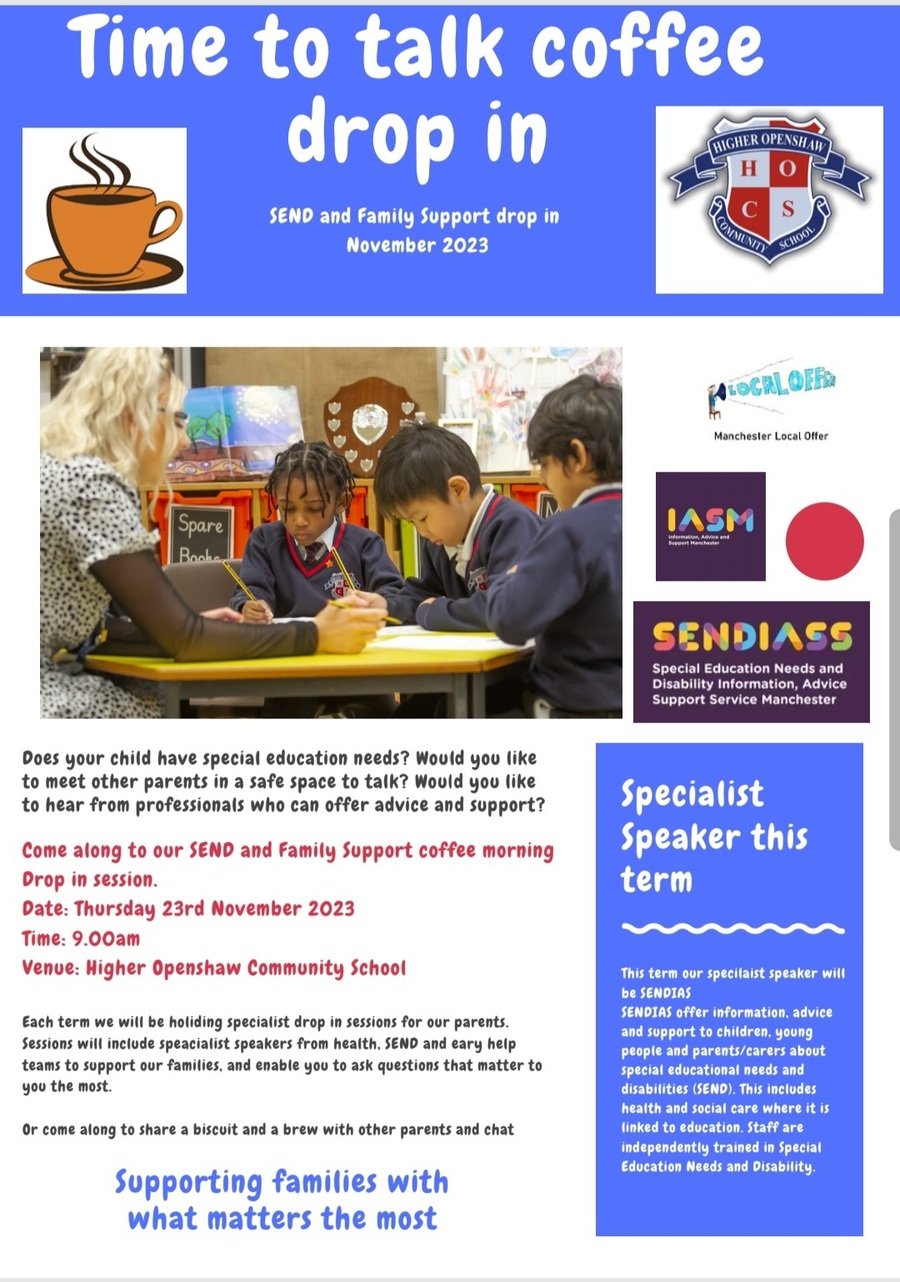 If you require a full printed copy please ask at the school office