Behaviour
Our Ethos and Values
Higher Openshaw Community School is an inclusive school. We are committed to promoting respect, fairness and social inclusion and these principles are underlying within the behaviour policy. We are committed to improving outcomes for our children and staff and promoting good relations across the whole school community.
We believe that every individual should be supported to succeed within their education through a safe, caring and calm environment where patience, tolerance, and respect for others is taught and fostered. We believe it is really important that we nurture and promote the behaviours linked to our core school values and ethos of Higher Openshaw Community School. We have simple but important values, which are taught, discussed and explored with pupils and parents and are displayed prominently around school. We explore the importance of our values through lessons, assemblies and day-to-day practice.
Behaviour Management
Higher Openshaw Community School uses a tracking system for managing behaviour in the classroom. The tracking system is split into six sections and is built around positive phrases (in a child-friendly format), which highlight and identify what is expected of the pupils. We believe that talking about behaviour is important in building an understanding of good behaviour. We do not believe that public shaming is an effective behaviour management tool- therefore only positive behaviour choices are displayed. Every child starts their school day being 'Ready to Learn'.
In EYFS and KS1, pupils have individual pegs to display and highlight their positive choices. In KS2, classrooms will display the terms "Ready to Learn", "Good choices" and "Role-model" to remind pupils of positive choices. Staff in KS2 keep track of which section children are working in throughout the day.
We teach children that it is OK to make mistakes!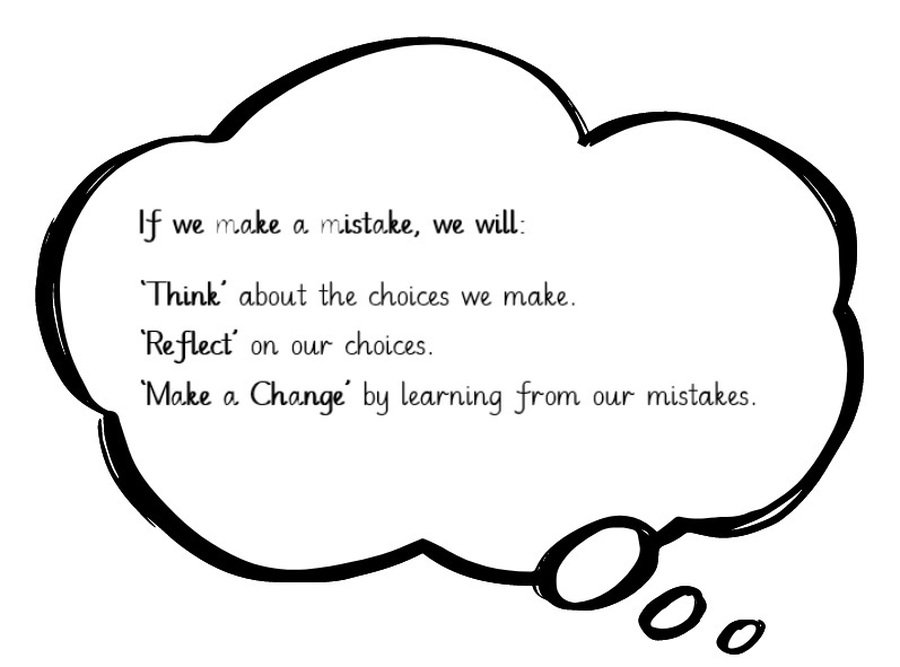 'Make a Change' group is a short session, ran by a teacher, and is a chance for children to discuss their feelings and explore what choices they made, and the impact it had on them and others. Children talk about the steps they have taken to make a positive change throughout the week. The session is not a consequence, and is a teaching tool to guide children to Be Ready, Respectful, Resilient and Safe in school.
Conflict Resolution
At Higher Openshaw Community School we take great care and process to resolve any conflicts which may arise between pupils. This is firstly done through children reporting any problems to a member of staff. All parties involved including any witness will then discuss what has happened (scribed if necessary) to get a fair reflection of the situation. A member of SLT or the mentoring team will then investigate and gather a verbal account from both sides.
Children will then sit together, discuss what's has happened and how it has made the other person feel in our making a change sessions. Appropriate sanctions if any will the be made based on our behaviour policy.
To read our latest behaviour policy see the enclosed document file under our policy section in the homepage.
| Name | |
| --- | --- |
| Anti-Bullying Policy SEP 2023.docx | Download |
| Anti-Cyberbullying Policy SEP 2023.docx | Download |
| Anti-Cyberbullying Policy SEP 2023.docx | Download |
| Behaviour Policy - September 2022 Child Friendly KS2 (1).docx | Download |
| Behaviour Policy - September 2023 Child Friendly Communication Friendly.docx | Download |
| Behaviour Policy - September 2023 Child Friendly EYFS & KS1.docx | Download |
| Behaviour Policy 2023.docx | Download |
| Biting Policy SEP 2023.docx | Download |
| Child on child and Sexual Violence Policy Information 2023.docx | Download |
| Cyber Bullying Advice for Parents.pdf | Download |